The perfect recipe for success
Date: Tuesday, April 11, 2023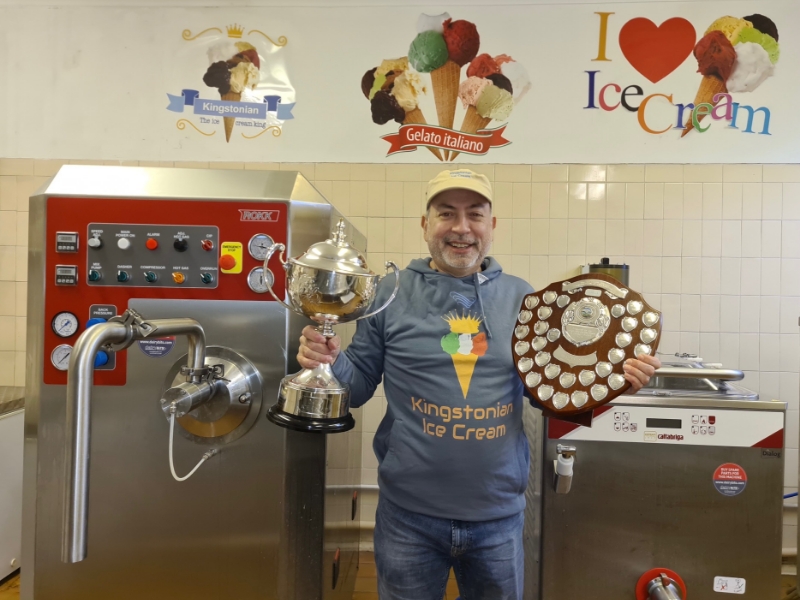 When you mix 110 years of ice cream expertise together with responsive technology and the finest ingredients from around the world, it's a recipe for success – and the highly acclaimed Best Vanilla in the UK National Ice Cream Alliance Awards.
Beating off stiff competition from companies large and small, artisan sole trader Enrico Mastrocola of Kingstonian Ice Cream raised the trophy high – and let us into a few secrets of his success.
"Kingstonian is a family business, started by my great granddad back in 1913, then passed down through my granddad, his brothers, my dad, and now me," says Enrico, who took over full responsibility for the business last year, but has been making the ice cream since the 1980's. "I think our award-winning recipes are due to a combination of the wealth of knowledge and expertise accrued through the generations, coupled with my love of learning and experimenting with new ingredients."

With Enrico at the helm, his first key business decision was to invest in a brand new ROKK RFE400 Continuous Freezer and Cattabriga PSK 185 Pro Batch Pasteuriser – an award-winning production plant combination. "I did a lot of research into the different options available, and was initially considering a computerised freezer," explains Enrico. "However, when I saw the ROKK RFE400 on the Machinery World stand at the Ice Cream Alliance Exhibition in 2016 and spoke with the team, they convinced me a manual machine would suit me better – and how right they were!"
"At Machinery World, we passionately believe in matching the machine to the customer," explains Phil Darvell, Managing Director at ROKK Processing, part of the Machinery World Group. "We always get to know their business inside out to ensure the advice we give them is tailored to their bespoke needs and methods of working.
"Enrico is a consummate professional and knows exactly how his ice cream and gelato should come out in terms of consistency and texture – so having a manual machine like the ROKK RFE400 is the perfect fit for him, as he can adjust the settings exactly how he wants them."
It's not just the ability to control and perfect the production process that won Enrico over – there's a whole host of other reasons he is delighted with his decision:
"The ROKK is so easy to use, really robust - and competitively priced, which, for a small business, is a key consideration," continues Enrico. "When you combine this with the fact that the consistency throughout the cycle is excellent, that it freezes more quickly and will last for decades, I am totally satisfied - and so glad I took Phil's advice."
So, with the Best Vanilla in the UK trophy proudly on display, will Enrico take a well-deserved rest?
"Not at all!" laughs Enrico. "I never rest on my laurels, and love trying out different ingredients and recipe tweaks. My new equipment enables me to manufacture more ice cream faster – the ROKK can freeze 400 litres per hour – and the Cattabriga is really flexible, pasteurising up to 180 litres per batch, or smaller batches of just 50 litres, so I can easily put new flavours to the test with my regular customers and receive immediate feedback."
---